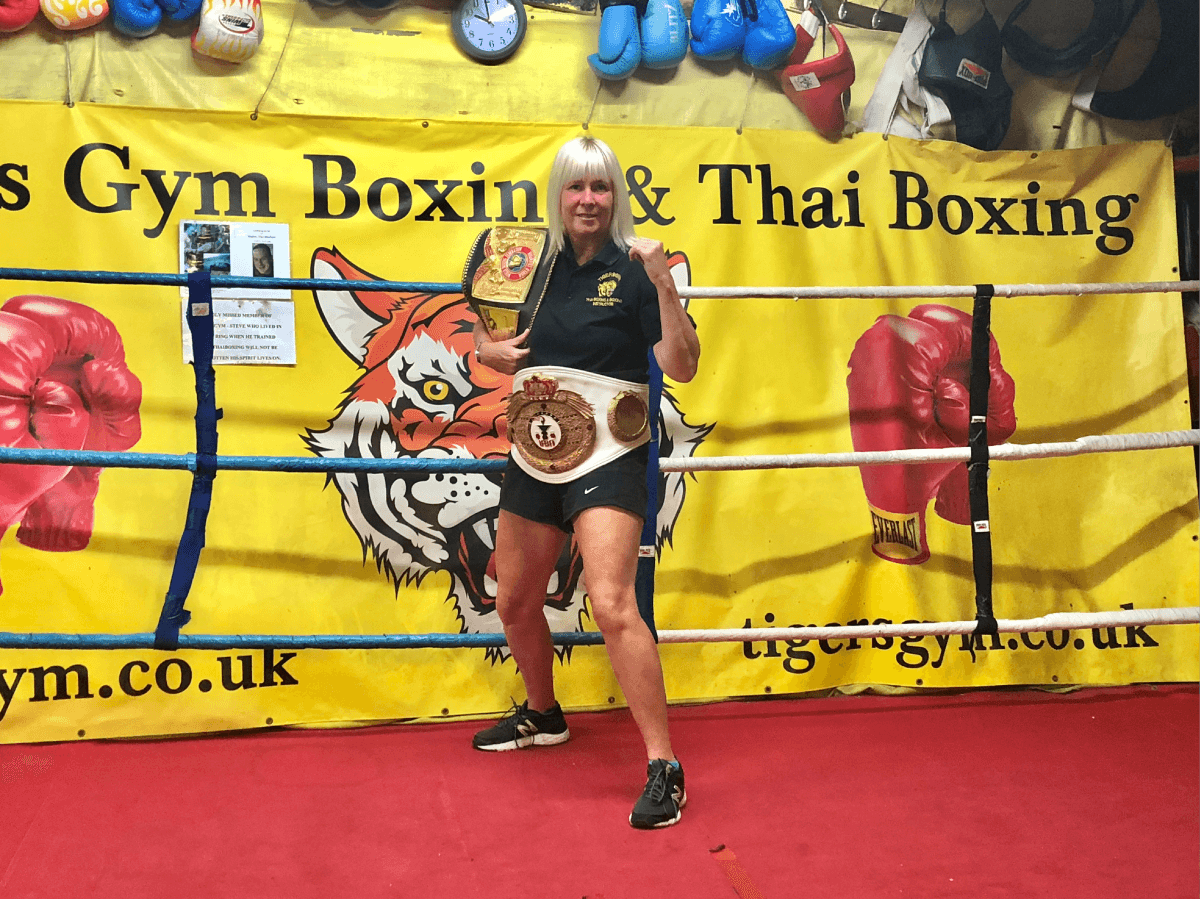 3 Times World Boxing Champion
Michelle Sutcliffe
Michelle Sutcliffe World Champion Boxer
Michelle was Leeds 1st world champion
Michelle Sutcliffe world champion was Leeds first professional British Boxing Board of Control licensed boxer to win a world title. The title fight was in the Leeds town hall in February 2000.
Furthermore, Michelle became the first British lady professional boxer to win 2 different world title belts in 2001, the record still stands.
5'4″ Flyweight Michelle Sutcliffe was born in Leeds and was trained by her number one inspiration, husband Gary. He originally convinced Michelle to practice Thai Boxing in Spring 1993 for self-defence and fitness purposes only.
Since Michelle began her career, she has gone onto achieve much success with 28 fights in Thai Boxing, Kick-boxing and Professional Boxing. Most noteworthy, she was the 2nd lady ever to be granted her professional boxing fighters license by the BBBofC – Jane Couch being the 1st.
Michelle Sutcliffe World Champion BBC North Sports awards
Above all, Michelle was the first lady to win the BBC North Sports award in 1999. Even more, Michelle was the first British professional boxer to compete in South Korea. Another point, she accomplished all this after starting late in her sporting career at 26 years old and with no previous sporting background.
Michelle Sutcliffe world champion had an illustrious career, beating many quality opponents. Most of them had a great deal more experience than herself.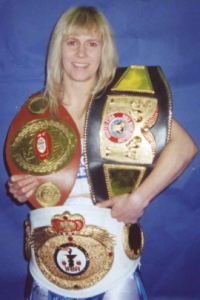 Early fights for Michelle were of a duration between 3 and 5 rounds, with all her world title fights at 10 rounds. Michelle's Professional Boxing career really began to excel after she fought the renowned Thai Boxer, Mary Hart, who went onto to win world titles in Thai boxing. Michelle stopped Mary in the fourth round to win the vacant British professional Bantamweight Thai Boxing title and a 9th straight win in Thai Boxing.
Michelle fought many big names from overseas and at home in the female professional boxing circuit. Such as Regina Halmich, Daisy Lang, Kim Messer, Para Draine, Sengul Ozocku, Veerle Braspenning, Marietta Ivanova, Francesca Lupo, Dianne Berry, and Jan Wild. Many of these contests took place in the USA, Denmark, South Korea, Italy, Germany, and the UK.
Royal Armouries Leeds Title Fight
Michelle had her first big fight in the UK, it was held on September 27th, 1999 at the Royal Armouries Leeds. This was for the vacant WIBF Intercontinental Flyweight Professional Boxing Title 50.8kgs. The opponent Veerle Braspennings was the Belgian champion, who had been training 6 months in preparation for Michelle. The power of Michelle's punches proved dominant throughout, with solid jabs and quality right hands landing often. A seventh-round stoppage from Michelle proved she had what it takes to go to the top.
On the 27th of February 2000, Michelle got her chance to prove her world-class ability to fight for the WBF Flyweight World Title Crown. Her opponent the vastly experienced and dangerous Francesca Lupo of Italy. Francesca was renowned for her aggressive in-fighting and coming forward for every single second available in a fight.
The Leeds Town Hall was packed and fans did not go home disappointed. They watched Michelle, the Boxer beat the fighter to the punch time and time again. "This was a super bout for me bringing out the best of my abilities. Full credit to Francesca who made this bout very exciting" said Michelle after the bout.
Michelle Sutcliffe World Champion three times
17th May 2001 saw Michelle defend her WBF World Title and capture the vacant IFBA World tile too. This was a risky decision to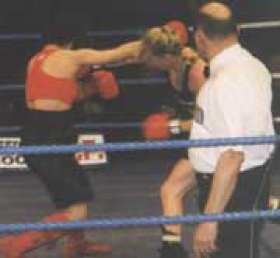 make by aiming to unify two World Titles, but Michelle pulled it off in style. Marietta Ivanova the fearsome Bulgarian champion was Michelle's opponent and number contender. All the top Russian girls had fought Marietta and lost to her. From the start, Michelle imposed her strong Boxing style with great skills to push Marietta to a halt in the fifth round. Marietta had been stopped and Michelle was now a three times World champion in her own right. Full credit to Marietta, as many fighters avoided getting in the ring with Michelle since beating Francesca Lupo.
World staged Televised Title Fights
Of all the big fights Michelle had abroad three bouts stand out at the forefront. They were exceptionally exciting and of quality watching for the fight fans. Regina Halmich of Berlin Germany October 2000 WIBF World Flyweight Title. Kim Messer of the USA and South Korea November 2000 IFBA World Flyweight Title.
Daisy Lang of Hamburg Germany September 2001 WIBF World Bantamweight Title. Very controversial points decision to Daisy after seven rounds. Michelle had been dominating rounds four to seven when Daisy received a very bad cut above the left eye. Daisy was in no fit state to carry on and the officials awarded the contest to scorecards by way of an unintentional clash of heads, giving Daisy 4 to 3 rounds at that point. The cut was caused by a succession of two straight right hands from Michelle. Michelle was hoping to make history in the number one country for female boxing. Hopefully by becoming the first professional Boxer to win a World Title in Germany after 70+ televised World Title bouts.
Respect to all Michelle's World Class Opponents
Total respect to all her opponents, but Michelle feared no one and always accepted any challenge at home or abroad regardless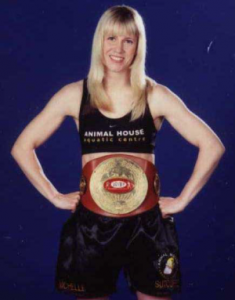 of experience and notoriety. Michelle was always well known for being a skilled, dangerous and very hard-hitting boxer. Which can only conclude why so many boxers refused a rematch with Michelle. The only boxer for Michelle in a rematch was Regina Halmich. For that, Michelle has always respected her for that tough decision. Regina, although winning a points decision was reported to have received a very badly broken nose and badly bruised face during the fight with Michelle for her World Title in Germany.
Michelle officially retired from professional Boxing in 2002. She currently trains regularly herself to keep fit and takes classes in Boxing and Thai Boxing alongside her husband Gary. Thank you to anyone and everybody who had a part to play in her success, especially all the promoters, officials and the fighters of course. Michelle's family had been very supportive of Michelle's career. None more than husband Gary who was Michelle's trainer for her Boxing career and most of her Thai Boxing fights. Michelle comments on saying, "My original goal was to achieve a British Title belt, but instead I went further by winning 3 World Titles in Professional Boxing. Furthermore, holding down a number 3 World ranking in Thai Boxing. The whole experience was fantastic and I thank all those involved in my success".
Michelle Sutcliffe world champion and full-time trainer
2 x WBF World Flyweight Pro Boxing Champion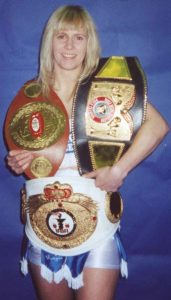 WIBF Intercontinental Flyweight Pro Boxing Champion
IFBA World Flyweight Pro Boxing Champion
4 x British Thai Boxing Champion
(Ranked 3rd in the World)
Fully qualified Thai boxing coach
Fully qualified Amateur Boxing coach
Michelle teaches classes along with 121 training
Get Smart – Train at Tigers Gym Leeds!
Jump In – Start Now!