Class details
 University of Leeds Thai Boxing training 
Thai boxing as a Leeds University student enables you to take part at Tigersgym and Leeds University "The Edge" in the Thai boxing (Muaythai) training sessions.
These mixed student classes are designed for all beginners and anyone with past experience. The training sessions are fantastic for overall body conditioning and will improve your cardiovascular fitness giving you an excellent workout.
All the training is done in a very relaxed and friendly way, with any form of contact or sparring training being totally optional!
The University Thai boxing club can take part in inter-sparring competitions that are held at Tigersgym
* All students wishing to take up any sparring will need to have the correct protective gear with a Gumshield, Leg protectors, Hand wraps and groin guard! All other protective gear is provided as in, head guards and body protectors.
You don't need to book any of the classes as a Leeds University student, just turn up and get started on your new fitness regime.
Medical students are also welcome to all the Thai boxing sessions.
Comfortable training gear is all you need then start enjoying another part of your University life. Remember sound mind – sound body!
Term dates for University of Leeds Thai Boxing training are:
* 1st term starts on Tuesday 2nd October until Tuesday 12th December 2018 and the Edge training starts on Wednesday 3rd October until Wednesday 13th December 2018.
* 2nd term starts on Tuesday 15th January until Tuesday 26th March 2019 and the Edge training starts back on 23rd January until Wednesday 27th March 2019.
* 3rd term starts Tuesday 30th April until Tuesday 14th May 2019, but no Edge training this term.
     
University of Leeds Thai Boxing committee members
| | | |
| --- | --- | --- |
| Captain | Peter Anderson | Thai Boxing |
| Vice-Captain | | Thai Boxing |
| Treasurer | | Thai Boxing |
| Secretary | | Thai Boxing |
| Social Sec | | Thai Boxing |
| Kit Rep | Patrick Myatt | Thai Boxing |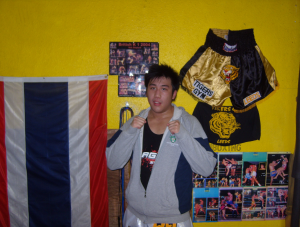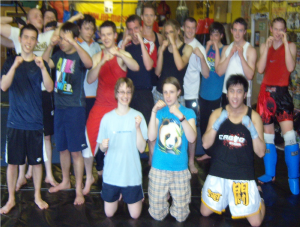 CLASS COST/PERSON
£5.00 1.0 Hr
Training Times
Tuesday 5:00 – 6:00 PM @ Tigersgym
Wednesday 5:30 – 6:30 PM @ The Edge
Class Trainer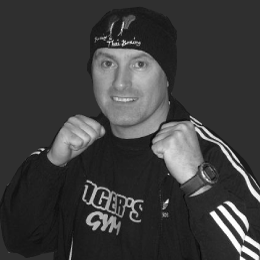 Gary Sutcliffe
Extensive amateur boxing career while serving in the Royal Navy. Held professional boxing trainers licence since 1999. Extensive Martial...
Profile
Class Trainer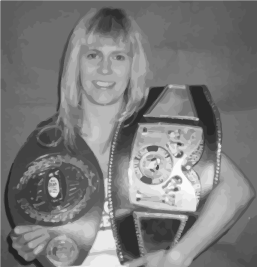 Michelle Sutcliffe
Leeds hometown girl - Michelle was the first professional British Boxing Board of Control "BBBofC"...
Profile
Class Information
TimeFrame: Monday - Friday
Top Grading: Professional
TAKE THIS COURSE